Rethink how you approach integration
Ovum estimates that companies will spend 20 trillion dollars on digital transformation initiatives in the next 5 years. So, what's behind this huge explosion of spending? As digital business calls for flexible integration capabilities that connect diverse data sources, IT leaders are willing to invest more in integration modernization.

As you plan for 2020, explore how building a future-proof integration strategy helps to ensure successful digital transformation.
Under the hood
IBM Cloud Pak for Integration is the industry's most complete hybrid integration platform designed to support the scale, security and flexibility required to empower your digital transformation. This video will provide a high level overview of the core capabilities and features found in Cloud Pak for Integration including API lifecycle management, application integration, enterprise messaging, event streams, high-speed data transfer and more.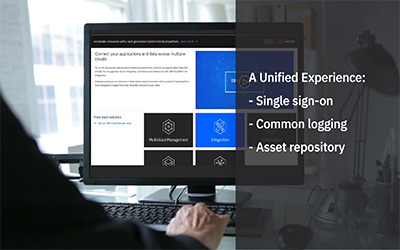 Watch the Video
Copyright © 2020. All rights reserved.
IBM, the IBM logo, ibm.com, and the IBM Business Partner Emblem are trademarks or registered trademarks of International Business Machines Corporation in the United States, other countries, or both. A current list of IBM trademarks is available on the Web at "Copyright and trademark information" at www.ibm.com/legal/copytrade.shtml. Other company, product and service names may be trademarks or service marks of others. The IBM product and/or services described herein are provided by an IBM Business Partner who is an independent reseller/dealer. The fulfillment of any conditions or offers described herein are the sole responsibility of the IBM Business Partner. IBM is not responsible for the actions or performance of IBM Business Partners. IBM Business Partner special offers, products and prices may be withdrawn or modified at any time without prior notice.